Jeremy Smith claimed after having visited the 2012 Oxford Literary Festival: "Suffice to say, it was a truly well-thumbed event. A new favourite I'll want to return to, again and again". Literature lovers will feel home from home in the Oxford Literary festival, which will be hold between Saturday, 22 March and Sunday, 30 March. This year, a big marquee situated between the Sheldonian Theatre and the Bodleian Library will house the festival bookshop, a café, the festival box office and some retail units. A lively and intellectual atmosphere, full of visitors and including some of the greatest English authors joined by some of the most respected writers from more than 20 countries, will make this festival an unmissable event.
 "After all, in nine days, more than 300 events were staged, covering everything from literature, popular fiction, children's writing, history and biography to food, drink, sport, gardening, philosophy, science and nature" continues Jeremy Smith in his review about the festival in 2012.
This year, despite its change of sponsorship, from the Sunday Times to the FT Weekend, the festival is expected to have such an interesting programme as last year's. In fact, as detailed in its official website the programme will include a "fantastic and intriguing set of speakers". Among others, the Man Booker winner Eleanor Catton and the thriller writer, Robert Harris; journalist Peter Snow; comedian Count Arthur Strong; and an exciting children and young people's programme that includes the Children's Laureate, Malorie Blackman will take part.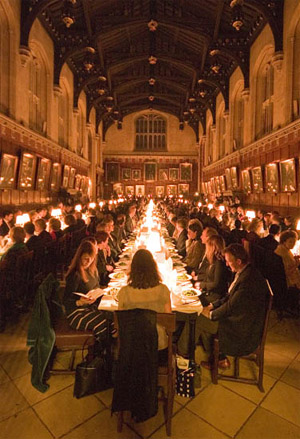 Moreover, the Oxford literary festival is also the perfect place to learn more about different cultures and their native writers. In fact, according to its official page, they will hold an India day and an Italian day. Furthermore, showing its internationality, major speakers from the United States and many other countries will also attend the event. Aspiring writers will also have the chance to test their writing and imaginative skills taking part in the Creative Writing Course, that since 2008, has also formed part of the programme.
In addition, in this world- class event visitors can join guided literary walks, lunches and dinner parties with prominent authors. Indeed, they will have the opportunity to meet leading writers and public figures as Jeremy Smith did.
"I asked if film star Stefanie Powers would pose for a photograph with me; I deliberately strode up and shook the BBC's Andrew Marr's hand; I waved at film director Sir Alan Parker; I loitered around Barry Norman, drooled at Joan Bakewell"
Last but not least, going to The Oxford Literary Festival is now easier than ever.  In fact, this year's boking system is "ticketless". As detailed in its official website, now, the unique booking reference new visitors will receive either by e-mail or on a print-out when making the booking is the ticket. Finally, visiting its  official page on Facebook and Twitter will surely be very helpful for those looking for more information, different opinions and views.  If you are a passionate of literature do not miss this forum of ideas debate and discussions full of unforgettable experiences.
References: